To a festive crowd of parents, students, teachers and invited guests, the winners of the 8th annual Thomas Edison Invention Challenge were announced and celebrated at the Thomas Edison National Historical Park ["Edison Park"]. The contest celebrated inventors from across the country.
Twenty-eight (28) teams across 6 states competed to make it to Edison Park for a top honors, run-off pitch contest. Six (6) finalist teams, three in the middle school and three in the high school categories went head to head. Teams "pitched" their invention, in person, before a 3 judge panel.
Here is a summary of the awards in both the middle school and high school award categories.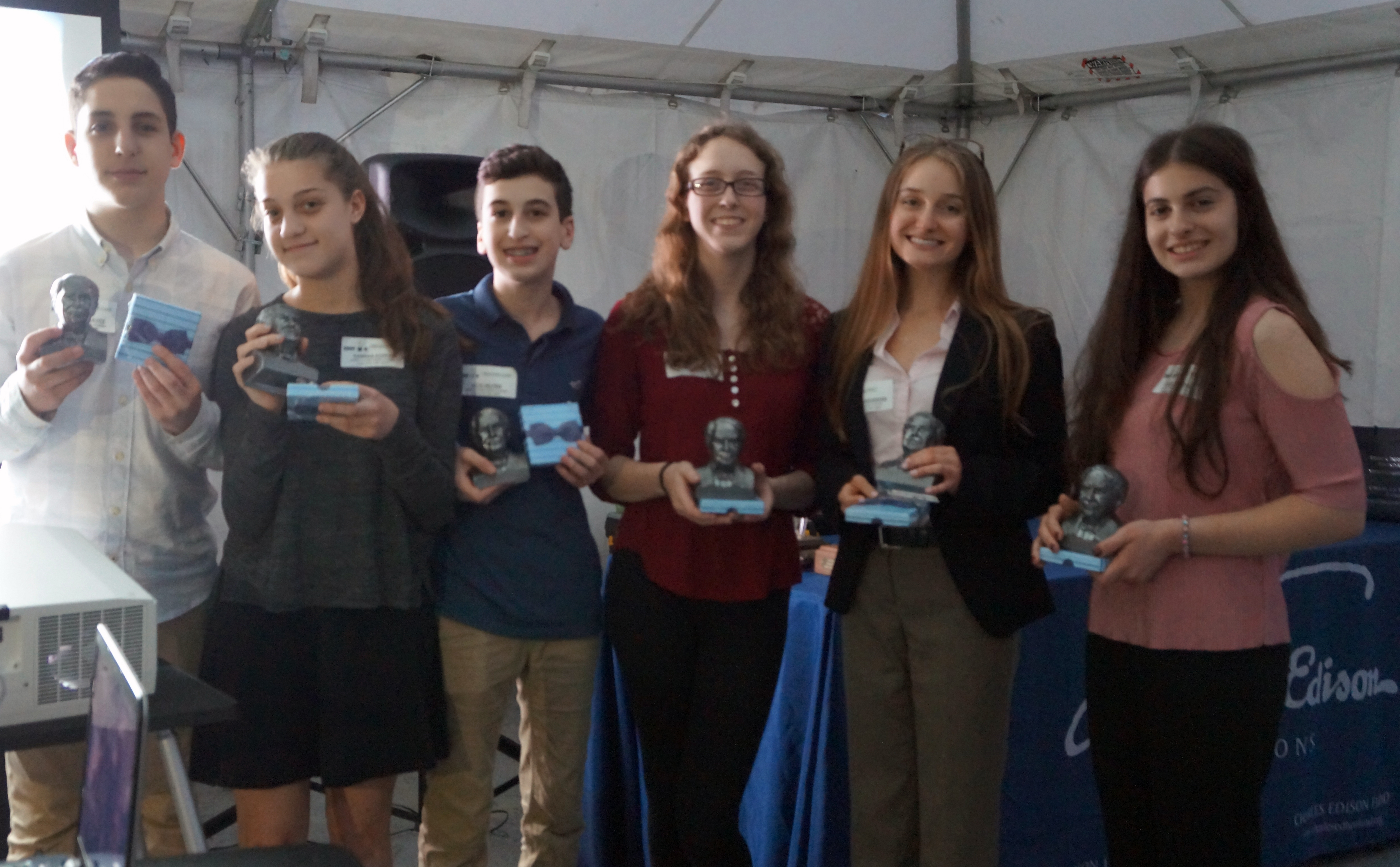 ---
Elementary/Middle School Category
1st Place: The Village School, Houston, TX (SKYPED-in for Pitch Competition)
BIOQUATTUOR – "A Model of an Insulin Delivery Robot"
The Insulin Bot will help give a person with diabetes the correct dosage of insulin that they need, allowing them to handle the healthy diet and exercise. The Insulin Bot turns sweat into energy which is then used to put insulin directly into the bloodstream and test glucose levels. Unlike traditional insulin pumps, the Insulin Bot is inexpensive, not dangerous to the human body, saves time and is not bulky.
2nd Place: Joseph Kushner Hebrew Academy, Livingston, NJ
CREATIVE CAPS – "Wind Powered Water Well & Water Filtration"
This team created a wind-powered well that takes the water and filters it so it lessens the amount of manual labor required to get water in third world countries. Once the water is filtered with this product, a solar powered buzzer goes off to let the user know that filtering is complete and the water is ready to drink or use. The wind turbine placed in the well provides an easy way to lift the bucket.
Team Members: Miriam Bash, Jack Helprin, Hannah Koppel, Nathaniel Savitz
3rd Place: Athens Middle School, Coxsackie, NY
The Fab 4 – "A Water Runoff Turbine"
This team's invention, The Runoff Repeller, separates contaminated storm water runoff from the sanitized water to help our rivers and oceans in order to clean them. Chemicals and toxic sprays from fertilized crops can be swept away by storms and brought into bodies of water right near our homes. The Repeller ensures that rocks and chunks of dirt/garbage are caught and do not enter the water supply.
Team Members: Leslie Hinrichsen, Hannah Osborn, Andrew Sage, Alex Slater
---
High School Category
1st Place: Seton Hall Prep, West Orange, NJ
SHPREME – "Bicycle Mounted Charging System"
This team's invention looks to solve the issue of bike riders' phones running out of battery by using a source of energy that does not harm the environment. This source would be the man-powered energy generated by the rotations of the rear tire. The rear tire rotates a 3D-printed gear which spins a separate connected gear which rotates the shaft of a generator. The rotation of the generator shaft creates an electrical current that flows from the generator into a power bank which then charges the phone via a normal iPhone charging cord.
2nd Place: Lacey Township High School, Lanoka Harbor, NJ
ALVOLT – "Mechanical Heart Valve"
This team's invention is an electrically motorized valve replacement with an ultrasonic sensor to regulate the aortic valve's leaflets to coincide with the blood flow of the systole and diastole phases. This invention is meant to significantly help a patient's postoperative and cardiovascular health, along with the aorta, which is the most important artery in the heart.
Team Members: Hailey Carskaddan, Samantha Kievit, Kali Pullin, Seda Turkoglu
3rd Place: Chatham High School, Chatham, NJ
Chatham Cougars – "Inflatable Lower Leg Field Splint"
This team's invention, the Inflataboot, is an inflatable leg brace to be used in emergency situations ranging from a sprain to a broken ankle. Often times, people find themselves in a situation where they do not know how to apply a brace or do not have time to learn how to. It is more convenient than carrying around a bulky brace, and more effective than wasting time assembling one.
Team Members: Kasper Bardecki, Thomas Giordano, Julia Lin, Kaitlin Pinaire
---
Thomas Edison said, "To invent, you need a good imagination and a pile of junk."

Stay Up To Date With EdisonMuckers!
Subscribe And Follow!