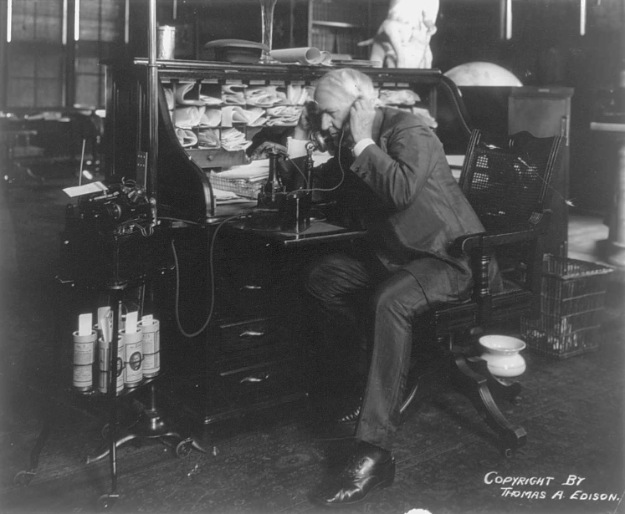 He has led no armies into battle – he has conquered no countries – he has enslaved no peoples – yet he wields a power the magnitude of which no warrior ever dreamed. He commands a devotion more sweeping in scope, more world-wide than any other living man – a devotion rooted deep in human gratitude, and untinged by bias of race, color, religion or politics.
This democratic, kindly, modest being has bestowed upon the human race blessings instead of bondage, service instead of serfdom, construction instead of conquest.
Possessed of an immeasurable breadth of vision, his world-aspect comprehends peoples rather than people, masses rather than men. That great restless, surging tide of creatures – that mighty human glacier pressing irresistibly toward an ever-widening horizon of civilization.
They call him the "Wizard of Menlo Park." They call him a "genius" – but he dismisses such adulation with a wave of the hand. Once, when pressed for a definition of genius, he coined the adage, "Genius is onc percent inspiration and ninety-nine percent perspiration."
Though he disdains the hero-worship of a grateful world, less exalted beings must ever sense him as a peculiar force of human nature in human form, a phenomenon quite beyond the comprehension of ordinary mortals.
Picture an electric-lightless, an electric-powerless, a telephoneless, a motion-pictureless, a phonographless world and a faint realization of his greatness dawns upon us. By taking Edison and his works out of the world we engender the keenest appreciation of Edison in the world.
On the worth of his own works he is inarticulate. They must speak for themselves, they must earn the world's approbation on their merits or be consigned to oblivion with Spartan fortitude.
Though humanity owes him an unpayable debt, he seeks no recompense beyond the means to experiment to his heart's content; beyond the joy of living and toiling in behalf of a debtor world.
In the passionate persuit of material truths and their conversion into practical, usable, beneficent forms, civilization has never seen his equal.
And of this man, this super-being who defies calssification, what more can be said; what greater tribute paid than this –
He is humanity's friend