Thomas Edison was one of many innovators whose work and patents influenced the electric railways of today. In fact, the mainline railroad tracks that today run past Edison's historic sit in Menlo Park, NJ site are powered by electric catenary wires.
Edison's connection with railroads stretches all the way back to his childhood, when he sold newspapers on the Grand Trunk lines in his native Michigan. At 12 years old, this was the first business that Edison started and his first taste of entrepreneurial skills such as time-management, problem-solving, creativity, and resilience.
His work as a newsboy on the railroad actually inspired him to start his invention career with telegraphy. At this time, railroads used telegraphy to circulate news across the country and to regulate train traffic. After being a night operator for the Grand Trunk Railway, Edison created his first real invention – An instrument that could record a Morse Code message on paper tape at regular speed and then play it back at a slower speed so it could be written down. By the time he died, Edison had 150 patents in telegraphy.
When he was older, Edison also became interested in the electric railways as a possible method to make his coal-fired power plants run all day (and thus, more economically), enabling things like electric railways, elevators and motors to run during the daylight hours before electric lighting was needed in the evening. He was also interested in the possible use of short haul electric trains to bring grain to market for wider distribution.
On May 13, 1880, on a U-shaped light rail track, Edison demonstrated his 32 horsepower, motor-dynamo driven train, along a 3/4 mile challenging route. Its top speed was 42 miles per hour. Edison's trusted laboratory manager, Charles Batchelor, usually manned the helm. His daughter, Marion enjoyed this particular invention and once said, "I was always happy riding on his electric railway".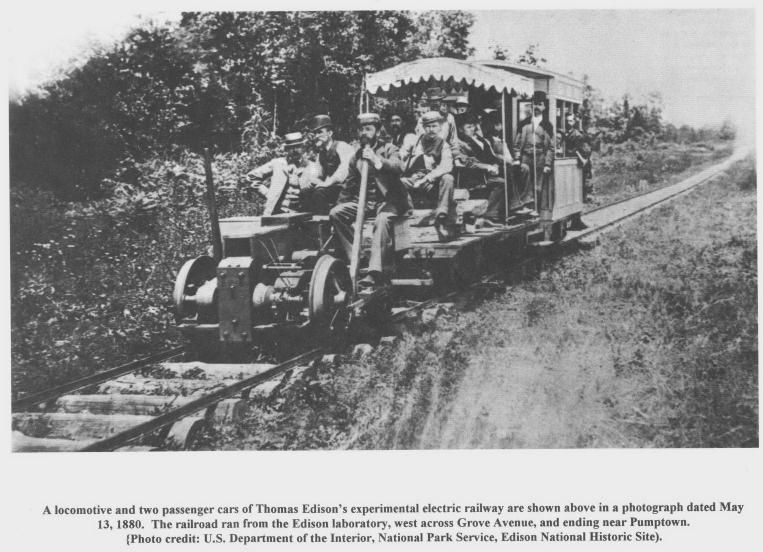 Later, in the Spring of 1882, a larger 3-mile track was developed for use, with four passenger cars and two locomotives. The trucks (or wheels) of the second electric locomotive are on view on the Main Street side of the Thomas Edison National Historical Park in West Orange, as shown below
Edison is not by any means the father of the electric railway, but his improvements did lead to several patents and innovations in the field, like an electrified third rail to power underground systems. He was an early experimenter who had to forego further work in this area as his electric lighting business (Pearl Street Station inaugurated in 1882) required increasing amounts of his attention and management. He sold off his electric railway interests in 1883.
However, Edison's love of trains stayed with him until his death. Just a month before he passed away, the Lackawanna Railroad inaugurated a suburban DC-based electric train service from Hoboken to Montclair, Dover, and Gladstone in New Jersey. Edison was at the throttle of the first electric multiple-unit train to depart Lackawanna Terminal in Hoboken in September 1930, driving the train the first mile through Hoboken yard on its way to South Orange.