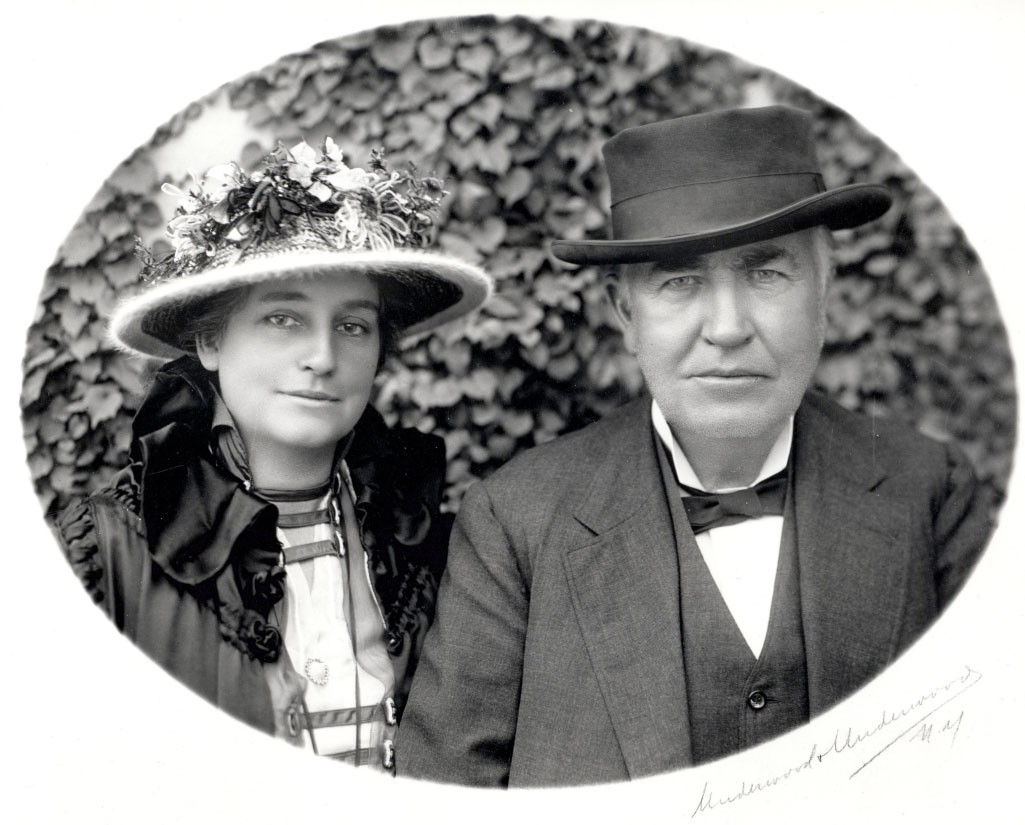 Mina Miller Edison (1865-1947) was the second wife of Thomas Edison. He married her in 1886 after the death of his first wife, Mary Stillwell Edison, in 1884.
Where Mary had been a woman of simple means, a worker in his Newark factory…..Mina was poised, the daughter of parents of culture and good upbringing in Akron, Ohio. Her father Lewis was an inventor himself of farm machinery, having much of the inventive spirit in common with his soon-to-be, son-in-law, Thomas Edison. As it would turn out, Mina would become the daughter, wife and mother of inventors. Her son Theodore Edison would also take up an inventive life, although he would never achieve the acclaim his father enjoyed.
Lewis Miller played a key role in establishing the famous retreat, Chautauqua in upper, western New York State. This kind of exposure to people of stature and mixing with highly educated folks helped groom Mina for the societal role she would play with a world renowned husband.
Mina and Tom
When Thomas and Mina joined, she became the matriarch of a huge 23 room mansion in West Orange, near Edison's new West Orange laboratories; a 13 acre estate that included the home (Glenmont), a barn, greenhouse, garage, farm animals, and tended grounds. Thomas bought her the magnificent Queen Anne style Victorian mansion as a wedding gift. Mina was 19 and Thomas 39; and along came three children by his first marriage-Marion, Thomas Jr., and William. Marion the oldest, was already 12, just 7 years younger than Mina, making her job as a young mother that much more difficult. Mina would then have three children of her own-Madeline, Charles, and Theodore.
Unlike Mary, Mina was up to the challenge of an already famous husband. While she adored him as Mary did, this adoration was not overwhelming. Mina had been around famous people all her life and was raised to "take charge" of situations. She became a loving wife, business confidant, and home executive, all the while boosting Edison and his burgeoning reputation and public acclaim.
She handled his very busy social calendar, dinner parties, and public relations so he could remain doing what he did best…..to invent breakthrough technologies and industries. Mina rose to the demanding rigors of her husband's fame and busy schedule. Many nights would pass with Edison spending long hours at the lab or personally supervising critical work at job sites. This was tough on Mina and the children, but she not only persisted in protecting her husband's privacy, and keeping his social calendar in order, she was an important asset to his business, his de facto public relations department.
The mansion was the site of many famous guests such as Presidents Hoover and Wilson; the kings of Sweden and Siam; environmentalist John Burroughs and Maria Montessori-the famed educator; General "Black Jack" Pershing and Helen Keller; industrialists: Henry Ford, Harvey Firestone, and George Eastman. There were also Orville Wright, Charles Lindbergh, and variety of others, including famed musical artists that Edison had recorded on his phonograph records. Against this backdrop of fame and notoriety, Mina entertained, brought up her children, managed the large estate, and carved out a meaningful life of her own.
Mina became a potent force for the conservation movement then picking up momentum. The rapid growth of cities and their encroachment on pristine areas was a major concern. Men like John Burroughs and others greatly influenced Mina's thinking…..and she most likely had input to the great movement to preserve wild areas, very much in the spirit that helped establish our national system of parks.
She was also an avid bird watcher and horticulturalist. Mina transformed  Glenmont's fertile grounds into a botanical wonderland—-planting trees, shrubs, and plant species from around the world there. Today still, the air around Glenmont is very much alive with the smells and aromas of blooming plants and trees.
Mina also gave of her talents to the surrounding communities, working tirelessly on various social, educational, religious, and community causes for the benefits of citizens great and small. She did her best to give back to her community, and in doing so, create a solid reputation of citizenship, while at the same time shedding light upon her husband's business. Her philanthropy was well-known. She had a most beautiful philosophy about education, maintaining that only through a traditional and classic liberal education do we make citizens ready for the wonderful democracy that we enjoy.
Her life-long interest in learning, studying foreign cultures, and giving her talents back to the community were all probably formed early in her youth with her father's founding of Chautauqua, a beautiful outdoor retreat on the southern shore of Lake Erie. There with Bishop Vincent of Akron, Ohio, her father Lewis Miller established a religious retreat that emphasized worldly learning and fostered continued learning to better understand people and ideas. Every summer in August for most of her life, Mina retreated to the bucolic splendor of this lakeside oasis for mental and spiritual rejuvenation. This state of continuous learning meshed well with Thomas's constant quest to learn and study his own interests. In the big world of new ideas and creative thinking, she and Thomas were in perfect harmony. Lovely Glenmont is a warm home, filled with books and opportunities for learning.
Today, Chautauqua remains a place of learning and understanding, whether for religious or other purposes. It is a name that describes both a philosophy and a geographical location. It is an invention of spirit and mind, no less important than Edison's physical manifestations of technology.
A Loving Partnership
There was a lovely partnership in the Thomas-Mina marriage, even if Thomas was often away from home for days at a time. She came to understand his greatness and to share him with the world. She shielded him from the distractions, and annoyances that could sap his creative energies.
In the large upstairs living room of Glenmont, sit two desks, one for Thomas and the other for Mina, signifying that both worked hard and in close proximity. Like the invention process going on at the Edison labs every day, their marriage was a partnership, of mutual respect, purpose, and love. Had she not provided such a nurturing environment for creative Thomas to dwell within, we may not have enjoyed (or been delayed in realizing) many of the advances that he achieved.
Today, Thomas and Mina rest side-by-side in a peaceful memorial garden area behind their beautiful home, the entire estate lovingly preserved for visitors from all over the world to enjoy, and reflect upon. Thousands of visitors tour Glenmont every year, marveling at the profound work done here by both husband and wife.