The Kelly brothers, Scott and Mark are West Orange bred, and like Thomas Edison who spent the majority of his life in West Orange, they have the "right stuff". The only twins ever to serve as NASA astronauts, the Kelly's know how to adapt and survive in rapidly changing conditions, and fly by the seat of their pants if necessary—exactly the kind of fellows Edison would have hired.
A proud Town of West Orange celebrated their life work, renaming their old elementary school, formerly known as Pleasantdale Elementary to Kelly Elementary. In March 2016, Scott Kelly returned to earth after 340 days on the International Space Station. Brother Mark Kelly is married to former Rep. Gabrielle Giffords of Arizona. Scott and Mark are now retired.
In his book, 
Endurance: A Year in Space, A Lifetime of Discovery
, Scott explains the physical impacts of prolonged spaceflight, the impacts on his body as he re-adjusted to normal gravity upon returning to his native planet. An excellent and dramatic re-counting of this is found in a recent Smithsonian article, "The Man Who Fell to Earth", September, 2017. From this perspective, how will today's aspiring commercial space entrepreneurs deal with what pioneer Scott Kelly went through? NASA has been dealing with space concerns since the early 1960s; and all that knowledge was focused on getting Kelly safely into space and back again—a huge commitment of resources and experiential knowledge gained over six decades. In fact, Kelly's long stay in space was designed to gather even more data about the physiological, and mental impacts of humans in space. While Scott Kelly was in great physical shape, he experienced difficult physical readjustments upon his return. What of space travelers on commercial flights?
Imagine what Scott also experienced, the stress he felt while circling the earth with his fellow astronauts. He describes navigating the extreme challenge of long-term spaceflight; the isolation from everyone he loves and the comforts of Earth; the pressures of constant close cohabitation; the catastrophic risks of depressurization or colliding with space junk, and the still more haunting threat of being unable to help should tragedy strike at home.
Scott Kelly has a message of hope for the future that will inspire us nationally like that wonderful feeling as we aimed for the moon in the 1960s. His story is a triumph of imagination and human will, against the unending wonder of space. Mars for Scott is our next logical step.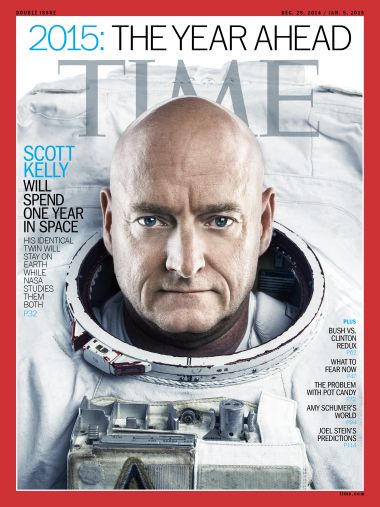 Editor's Deep Dive on Scott Kelly:
https://en.wikipedia.org/wiki/Scott_Kelly_(astronaut)
https://www.jsc.nasa.gov/Bios/htmlbios/kellysj.pdf
https://www.youtube.com/watch?v=hH8fdKP2hzo
https://www.youtube.com/watch?v=3YfyvA8AxLw
***********************************
Thomas Edison had a fascination with space as well. His Tasimeter invention was designed to measure the heat of the sun's corona during the great eclipse of 1878; and his idea for measuring radio waves from the sun in 1890 was a very early concept for what later would become radio astronomy. He and the Kelly brothers would have much to talk about!
Thomas Edison said, "I never did a day's work in my life, it was all fun."