It's not a big classroom/workshop at West New York Memorial High School, but there is magic happening there. Students are learning about Thomas Edison, alternate fuels, and building an all-electric vehicle…. all at the same time. In fact, the students not only built a Lotus7 from an old set of blueprints, they showed the car at the prestigious April 2012 New York Auto Show. You can see this vehicle too at the upcoming annual Edison Day celebration … read more below.
Ron Grosinger, 34, a teacher at the high school for seven years, has roughly 30 students enrolled in his Alternative Fuel Club and Inventors and Craftsmen classes. "My job is to teach students how to prepare for alternative fuels," Grosinger said. "There's no silver bullet. The answer (for fuel efficiency) isn't investing completely in electrical or biodiesel cars. We need to utilize both." Ron teaches his enthusiastic students about engineering, metals, math, science, alternate fuels, and to use their heads and hands to create something new. It's a crash course in Reality 101, and the students respond whole-heartedly, anxious to learn…and do.
This is not the first alternate energy car attempted by Ron Grosinger and his students. Two previous classroom projects resulted in a biodiesel conversion car and a battery retrofit to another car. The Lotus7 build was their first ground-up build, soup to nuts. The West New York Board of Education contributed roughly $10,000 toward the project, and the Edison Innovation Foundation contributed $4,000.
On June 2nd (Edison Day) the vehicle will be displayed at the Thomas Edison National Historical Park site in West Orange, NJ . Visitors are welcome to enjoy the free all day celebration festivities at the park, from 10:00 am to 4:00pm; and also see the vehicle. The Lotus7 will reside in the historic Edison garage, alongside several vintage electric vehicles dating from the 1911-1914 time frame. The old vehicles were driven by Mrs. Edison on her jaunts around town and on her way to her many civic and philanthropic activities.
This is the kind of education Thomas Edison argued for during his lifetime, real-world engagement on projects that made students design, think, create and invent. Today we call this STEM education, Science Technology Engineering and Math; and it looks like Ron Grosinger and his kids are right there in the thick of it!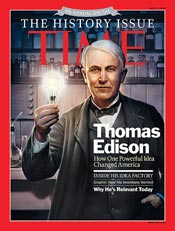 Wonder what Ron and his team have planned for next year?
___
"The thing with which I lose patience most is the clock. Its hands move too fast.
Time ® is a registered trademark of Time Inc.