Thomas Edison memorabilia and antiques are always good sellers, whether in private transactions or bid situations like on eBay or other forums. Memories of the great inventor are highly collectible. Recently, at auction, a 1911 photo of Edison, bearing his handwritten note and signature, went for over $31,554. The photo had been estimated to have a $5,000 value, so passion for the man's memorabilia had clearly dominated the bidding. This photo [below] shows Edison cradling his famous nickel-iron, alkaline storage battery; and bearing the note, "I believe time will prove that the Alkaline Storage Battery will produce important changes in our present transportation systems." The signature at the bottom is known as the famous Edison umbrella signature.
According to Associated Press who reported this story, the photo was the property of Walter Holland, who worked with Edison on the battery and published his lab reports on the project. Holland was appointed chief electrical engineer of the Edison Storage Battery Company in West Orange, N.J., in January 1911. The photo is dated May 4 of that year.
At the time of this photo, Edison was involved with championing electric vehicles and their batteries as a clean alternative to gasoline powered cars, and of course the ubiquitous horse. Work on this battery, which became one of the most versatile products ever produced by Edison, had been a long and tedious affair, with many failures, and requiring tens of thousands of experiments. His work on this technology is believed to have given birth to one of his famous quotes, "I have not failed 10,000 times, I've successfully found 10,000 ways that will not work." His work on the battery system had begun in the 1890s.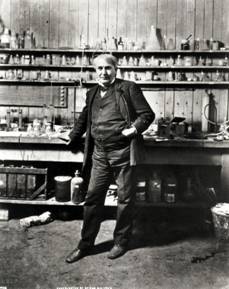 His rugged batteries also are a popular item that folks collect. These products were used in miner's hats, lighting railway cars, railway signals, maritime buoys, by the ARMY and Navy and merchant marine and in other applications. It was a forerunner of the durable alkaline batteries we use today. At his West Orange site there was a huge building devoted to nothing but the manufacture of these batteries. In his garage at his nearby home, Glenmont, visitors can see the electric vehicles [and his famous batteries] he and his wife Mina used—as well as one of the first garage-based electric vehicle charging stations he had integrated into the building, exactly what we are talking about today for our garages, but accomplished by Edison in 1908.
Here we sit 100 years later, promoting the use of electric and hybrid vehicles as a way to reduce our dependence upon foreign oil. Old Tom as usual was right on the money when he speculated back then that we would run out of oil. This technology also fit in nicely with his philosophy about using clean alternate forms of energy like solar and wind. You have got to love the vision of this man, an American original!
"Many of life's failures are experienced by people who did not realize how close they were to success when they gave up."
Time ® is a registered trademark of Time Inc.