Everyone knows the saying that Yankee Stadium is the house that Ruth built, a tribute to the iconic baseball player whose charisma and slugging power were legendary. His rise to prominence coincided with the rise in status of the great ballpark. Most folks however, don't know that Thomas Edison's Portland Cement was used to actually build the world's most famous ballpark…about 68,000 bags in fact…..but, it wasn't all he did with concrete.
Edison can be considered the father of pre-fabricated housing. He built a variety of concrete houses using complex molds and arrangements that allowed his workers to continuously pour a complete home in about six hours. A number of these homes exist today. His technology was licensed to builders, with several New Jersey housing clusters built. Edison also thought about a wide variety of other uses for concrete, including furniture and phonograph cabinets.
The garage and potting shed at Edison's historic home, Glenmont in LlewellynPark in West Orange NJ are classic examples of his concrete building technology. Both structures were built about 1908-1909, and are in fine structural condition today, toured by many visitors to the site each year. The garage houses a variety of historic automobiles owned by the Edison family.
Edison's work in concrete changed the cement industry as well. He redesigned the kilns used to make the concrete and increased their size radically, in most cases doubling their length. A great deal of the technology he used for concrete-making derived from his failed efforts to crush large scale rock formations to extract iron ore.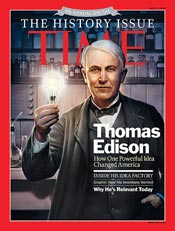 Editor's note:Very soon, there will begin a serious fund raising campaign to rehabilitate the garage and restore the Edison era automobiles there; including three electric vehicles, and the personal chauffer-driven car of Edison's son, Charles, who used the car when he was governor of New Jersey [1940-44].
"Everything comes to him who hustles while he waits."
Time ® is a registered trademark of Time Inc.