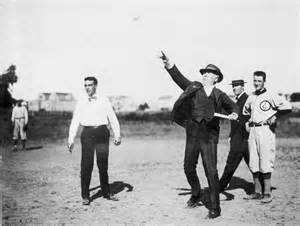 Yes he was, a baseball fan. No big surprise here that he would love this beloved American sport. Here he is below throwing out a baseball, kicking off a long-ago match between teams … boys on a summer day.
At his legendary West Orange Labs, with his many employees, probably 10,000 or more, it was only natural for many healthy young men to engage in sports, what would later become known as industrial leagues. Tom supported his different sports teams. Here in the photo below, he is surrounded by one of those baseball teams, circa 1920s.
Down at his winter home in Ft. Myers Florida, Edison enjoyed watching the boys tune-up their Spring training for the up-coming season. His attraction to the Philadelphia Athletics [later to become the Kansas City Athletics and later the Oakland A's] was enshrined in this circa 1925 photo of Tom with (l. to r.) Ty Cobb and Connie Mack. He befriended legendary team manager Connie Mack, often socializing with him and other members of the team, and even occasionally hosting them at his estate. Edison remained a loyal fan, attending Athletics' spring training and regular season games.
There was another fascinating connection Edison had with baseball. His Portland Cement (about 68,000 bags of it) was used to build the world's most iconic ballpark-Yankee Stadium.
Play Ball!
Check these sites out:
http://edison.rutgers.edu/baseball.htm
https://www.edisonmuckers.org/the-house-that-babe-ruth%e2%80%a6-and-edison-built/
"I find out what the world needs. Then I go ahead and try to invent it."
Time® is a registered trademark of Time Inc.