Yeah baby … Thomas Edison had a tattoo, an image known as a quincunx-four dots arranged in a square, with a single dot in the middle. This image is the way the number five is portrayed on a dice cube. It was inscribed on his right forearm. The only catch is no one knows how the tattoo got there. There is no mention of it in the vast Edison archives. Did old Tom tattoo himself? We'll never know.
According to the staff at the Thomas Edison National Historical Park [TENHP] Edison invented the electric pen in 1875 with the assistance of Charles Batchelor. The pen-like shaft had a reciprocating needle that was driven by a small motor powered by a wet-cell battery. As the user wrote or drew on a wax stencil, the needle made thousands of perforations per minute. The stencil was then placed in a press, and a roller forced ink through the holes, creating multiple copies (up to 15,000 according to Edison's advertisements).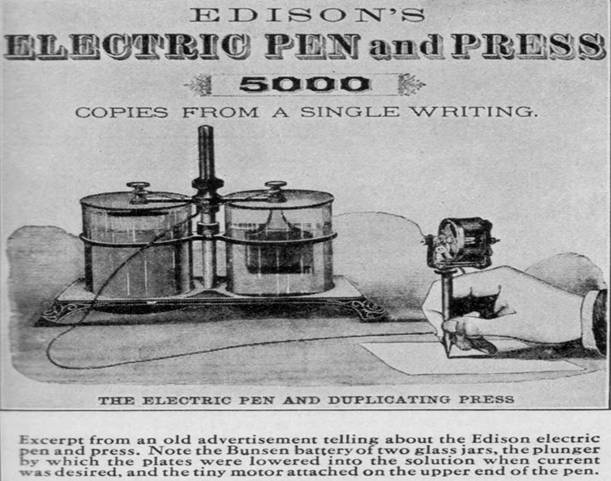 The electric pen later evolved into the mimeograph and the tattoo needle. Today's tattoo pens are much improved over the Edison electric pen, refined many times to deliver the beautiful tattoo designs that many folks desire, creating a genre of art known as "body art". Humans have been decorating their skin for thousands of years-the tattoo pen merely facilitates this.
Three American president had tattoos. Teddy Roosevelt had a large family crest inscribed across his chest. James Polk had Chinese-character tattoos; and Andrew Jackson had an image of a tomahawk on his inner thigh. But wait … there's more … Winston Churchill had an anchor on his forearm; and famed U.S. Senator Barry Goldwater of Arizona had a Native American symbol on his hand. So now you know the story about Edison and his tattoo, and those of other famous people.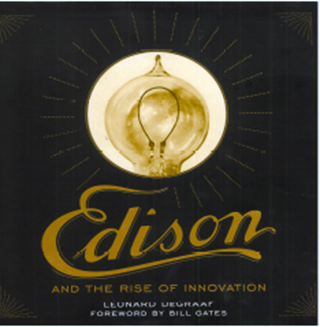 In the newly published Edison book, "Edison and the Rise of Innovation", a detailed discussion of the tattoo pen is presented on page 16. This is a great book folks, packed with lots of photos and information about the great inventor. Over 15,000 copies have been sold thus far,with interest remaining keen. The book is available in Barnes & Noble book stores and on their web site at www.barnesandnoble.com. TENHP archivist Leonard Degraaf wrote this historic work. Bill Gates penned the foreword. We guarantee you will like this book; and yes, it makes for a wonderful gift to family and friends!
Thomas Edison said … "I never perfected an invention that I did not think about in terms of the service it might give others… I find out what the world needs, then I proceed to invent …"
Time ® is a registered trademark of Time Inc.