Fun Facts About Glenmont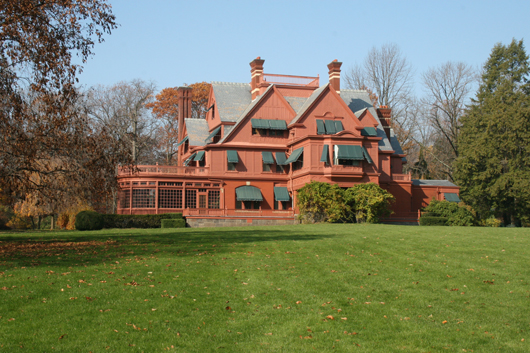 When originally built, Glenmont was a marvel of modern living, and had:
A central heating system
23 fireplaces
Hot and cold running indoor water
Indoor flush toilets
A refrigerator room in the kitchen
Most of Glenmont's fireplaces were seldom, if ever used, as the home's central heating system did the job just fine. Originally, Glenmont had 23 and 1/2 rooms, including  2 and 1/2 baths. The Edison's added 6 more bathrooms to the home and made many other additions and modifications while living there. Today, the home has 29 and 1/2 rooms.
[Photo above-Fireplace in daughter Madelene's  room, second floor, southwest corner of home. Photo below-Kitchen and Work Area; North West Side of House.]
[Photo above-Fireplace in daughter Madelene's  room, second floor, southwest corner of home. Photo below-Laundry Room Sinks; North Side of House.]
[Photo-Thomas Edison's Bed; South Side of house.]
Soon after buying Glenmont, Edison had it wired for electricity. Power for the mansion was provided by a dedicated line run from his nearby West Orange Laboratories, probably using underground cables very similar to the ones he was using to demonstrate his now legendary Pearl Street electric generating station and distribution system concept in New York City. From about 1888 thru 1958 those DC cables powered the mansion. With the passing of Glenmont into governmental stewardship (the National Park Service) in the late 1950s, new AC wiring finally replaced the old DC system. Remnants of that bygone DC era still can be seen in the basement of the mansion.
Glenmont was originally built using 157,000+ bricks, and 10,000+ pounds of iron and steel framing. It has 91 windows and 7 chimneys; and employs about 40 window awnings. It took two years to build (1880-1882). This massive and elegant building contains 20,000 square feet of living area. Glenmont measures approximately 123 feet long (north to south), 116 feet wide (east to west), and 54 feet high. It has a 23 foot square open porch at its top (a widow's walk), from which New York City can be seen. It has a magnificent conservatory that dominates its southern face.
Originally, all the rainwater from the roof gutters of Glenmont was directed to four underground cisterns, built into the foundation, which then were used to supply water to the flush toilets in the home, pumped to and then dispensed from a central tank in the attic.
Glenmont is now heated and cooled using a natural earth energy system called geothermal heating. In the summer, heat from the house is extracted and stored down twelve, 350 foot deep wells, about 200 feet away from the house. In the winter, this heat is retrieved and used to heat the house. It all works on the same principle as the refrigerator. Six heat pumps do all the work in capturing and moving the heat between the house and its storage wells. A geothermal alternate energy system was chosen for installation during the home's massive renovation in 2004-05 as a way to recognize the Edison's respect and love for nature–she being an ardent environmentalist, horticulturist, and conservationist; and he using many natural materials in his inventions, as well as enjoying camping and nature tours.
Art & Architecture of Glenmont
Glenmont was designed by famed architect Henry Hudson Holly. Holly is also known for designing another famous American historical figure's house – Mark Twain. On the first floor of Glenmont, each room is lavishly decorated in different types of wood:
Grand entrance: mahogany and oak
Sitting room: birch
Drawing room: rosewood
Library: dark mahogany
Dining room: ash
Den: primavera
Thomas Edison and his wife Mina were also great lovers of art.
[Photo above-Large painting on  landing of grand staircase, "The Morning after the Ball", purchased at Paris Exposition of 1889, and painted by Abraham Archibald Anderson, Edison County painter and friend of Edison. Photo below-Madeleine Painting; Celebrating Her Engagement.]
[Photo- Beautiful ceiling painting in first floor family Den, off the Dining Room]
Glenmont generally needed 4-6 servants to keep it running; and sometimes as many as 10 if a large affair was being hosted. People from all over the world worked there. Edison referred to his international staff as "his league of nations", and they lived and worked in close proximity to the family, having their quarters on the third floor of the home.
[Photo-Tea service display in Reception Room on first floor, near Conservatory.]
[Photo-Mrs. Edison's plate and glass cabinet in the dining room, just outside the entrance to the den. Mina loved the delicate red glass goblets and never missed an opportunity to add to her collection. The plates date back probably to the mid-1800s.]
[Photo (below)- What was originally the back entrance to the home was modified circa 1915 and made into a lovely tea or contemplation room for Mina. Taking later western sun she would read or greet friends in this delightful nook.]