On May 13th, the Edison Innovation Foundation gave awards to student team finalists from across the country in the annual Thomas Edison Pitch Contest. It was the 10th year of hosting this competition…and the very first held completely over Zoom due to the stay-at-home orders.
The finalists were chosen from 180 teams in 21 states across the country who entered our contest this year. The student teams from elementary, middle and high school displayed wonderful creativity and inventive spirit for our 10th Anniversary Celebration. We thank our partners Gilbane, New Jersey Manufacturers, and PicoSolutions for supporting this exciting event.
The students pitched their invention ideas to our expert judge panel of financial professionals, Edison experts, and lawyers to win a 3D Printer and more for their schools!
Here is a summary of the how they placed:
Elementary School
1st Place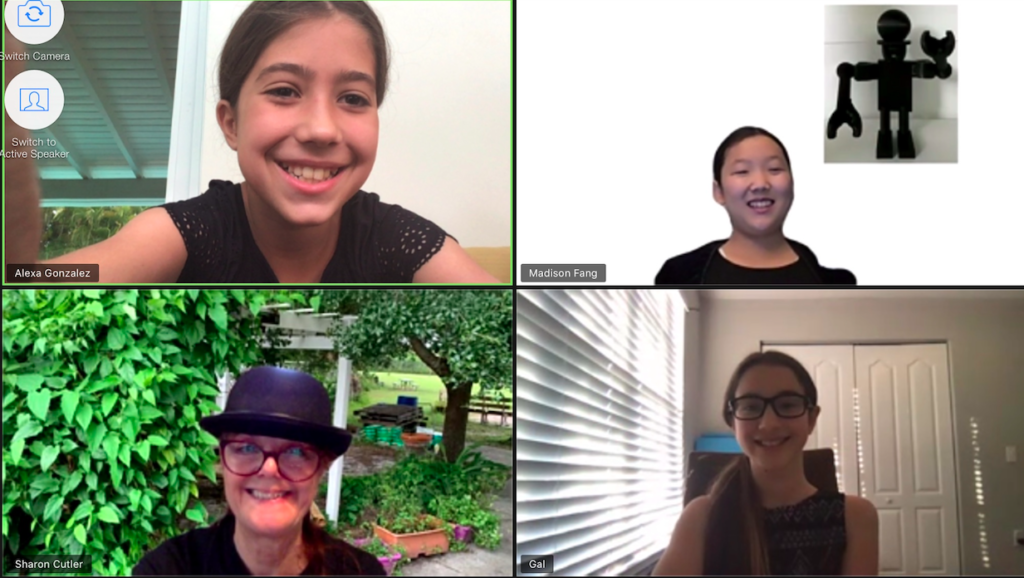 Team Empower, Lawton Chiles Elementary, Tampa, FL
This team originally wanted to create a robot that picked up trash in the community. However, when Corona hit their home town, they saw an even greater need in their community…the need for the Grab & Go Robot "GiGi." This robot was made to serve lunches at school grab and go sites to students and families, taking a whole group of volunteers out of the line of fire of infection.
2nd Place
Team 3R, Claude Curtsinger Elementary School, Frisco, TX
This student created a fully functional application to help complete the 3Rs – Reduce, Reuse, and Recycle. This application is meant to spread inspiration and information in a simple fashion, right on your phone and hopefully reduce the amount of huge amount of waste created in the world today.
3rd Place
Team Chair Affair, Lincoln K-8, Rochester, MN
This team created a kit to add to the many advantages of a ball chair in the classroom. These balls are proven to help kids focus and get exercise while learning but what if they could also help power their classroom? These kits would generate enough energy to charge students' electronics and maybe even a light bulb.
Middle School
1st Place
Team Designer Daises, Hockaday School, Dallas, TX
This team created Easy Parking, a sensor and app system that allows people to find parking spots in the community based on their necessities. It streamlines parking for people with special needs, such as the disabled and parents with small children, by shortening the amounts of time they need to park. It was inspired by Thomas Edison's inventions that simplified life for people like his phonograph and light bulb.
2nd Place
Team Hockabuilders, Hockaday School, Dallas, TX
This team created a new, better kind of air filter for HVAC systems called the Dust-Be-Gone. It is a single-purchase system that saves money, prevents damage to the system, and improves the health of the average person who does not change their air filter regularly. It can be used to help homes, schools, restaurants, and the list goes on!
3rd Place
Team Electric Speed Bump, Sierra Vista, Irvine, CA
This team created a brand new kind of renewable energy to power street lamps…powered by a magnet and gear system in the speed bump! Not only will this save money and help make towns make the switch to renewable energy, but it will also help make streets safer.
High School
1st Place
Team Solar Aqua Tech, Ridgewood High School, Ridgewood, NJ
This team created a water bottle that converts undrinkable to drinkable using only sunlight and oxygen. This cheaper and easily accessible way to sanitize water can help make clean water more accessible to people in need all over the world.
2nd Place
Team RHS 1, Ridgewood High School, Ridgewood, NJ
This team was inspired by one of their classmates with COPD to create a more efficient way to get more out of his inhaler during the stressful commotion of an asthma attack. The Inhale Rite would be an attachment to any inhaler that would help patients achieve the correct dosage out of their inhaler with less force and form.
3rd Place
Team BP-Lytic, Cupertino High School, Cupertino, CA
This student was also inspired by someone close to him with hypertension – his dad! The BP-Lytic is a novel cuffless blood pressure monitoring system that he created to be accessible in a durable watch form. The next Apple Watch or FitBit…but for patients!
For the first time, special awards were been granted to teams that have shown special talents, especially under the hard conditions of virtual learning. These teams impressed us with their:
Most Creative Use of Materials
Team WildWires (The Winsor School, Boston, MA)
Best Use of Recycled Materials
Team ABIS (Alexander Batcho Intermediate School, Manville, NJ)
Team SEPS (Leighton Elementary School, Aurora, OH)
Most Thoughtful Notebooks
Chatham Cougars (Chatham High School, Chatham, NJ)
Most Creative Notebooks
Ocean Blue Crew (LBI Grade School, Ship Bottom, NJ)
Best Teamwork
Team FishScales (The Village Middle School, Houston, TX)
Best "Problem Solvers" 
Daises of the Future (Hockaday School, Dallas, TX)
********************
Congratulations and great job inventors! 
You have captured the Thomas Edison spirit….."There's a better way to do it-find it!"