It's National Inventor's Month, so thank an inventor you know because their hard work and the intellectual property developed has gone a long way toward improving our economy and lives. Consider this.
A 2012 report from the Commerce Department ["Intellectual Property and the U.S. Economy: Industries in Focus" – April 2012] indicated that 40 million U.S. jobs are linked to intellectual property [IP] use. Those IP intensive jobs account for almost $5 trillion to U.S. GDP, about 35% of our current economy. Furthermore, this report found that exports from IP intensive industries totaled $775 billion in 2010, about 61% of merchandise exports. Another important finding showed that for every two jobs in IP intensive industries, another job was generated elsewhere in the economy.
Some of the most IP-intensive industries surveyed by the report were computers and peripheral equipment, audio and video equipment manufacturing, newspaper and book publishers, plus pharmaceuticals and medicines.
Major conclusions to be derived from this important report:
A significant portion of our economy is based on invention and IP
IP is a way to create great export economics
IP generates jobs
Streamline the patent process to promote faster patent awards
Encourage invention and new product development
Make sure students have the opportunity to master STEM activities in schools
Protection of our IP is another important conclusion, because international IP theft robs us of jobs
Teaching young folks about Thomas Edison is inspirational, and totally applicable in STEM classrooms
Invention is directly responsible for our high standards of living.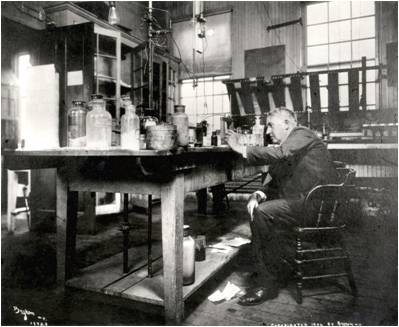 Learn more about America's great inventors, including the big guy himself, probably an inspiration to many inventors … Thomas Edison. Talk to your kids and their teachers too. Make sure this important message gets out!
"My desire is to do everything within my power to free people from drudgery and create the largest measure of happiness and prosperity."
Time ® is a registered trademark of Time Inc.