Teachers … as you arrive back in school once more, bring Thomas Edison with you and introduce his rich legacy to your students. Here are major points to develop lesson plans; and show how Edison's work is important to integrating the curriculum.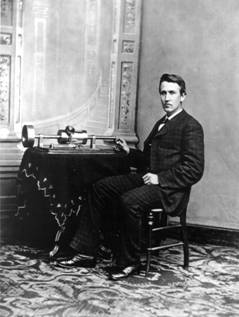 Edison brought more wealth to civilization than any other human being. He died in 1931, but his accomplishments and industries created live on, representing 10% of the world's economy. [LESSON PLAN HELPER: Connect history and technology and science]
Undoubtedly, the educational discipline called STEM is being used in your school. Thomas Edison pioneered this interdisciplinary, multidimensional way of solving problems at his West Orange labs 125 years ago. [LESSON PLAN HELPER: Connect science, technology, engineering and math]
With Edison comes that indomitable spirit to never give up, in spite of failures. He epitomized the man who learned valuable lessons from failures…coining his famous quote…."Fail your way to success". [LESSON PLAN HELPER: Connect science, technology, business and economics]
He created four huge industries…the electric light and utility industry, recorded sound, motion pictures and the modern day R&D lab. All together he had 1093 U.S patents; and counting his overseas patents the total climbs to 2332. His work is broad and deep in scope making him the greatest inventor who ever lived. Life Magazine proclaimed him the Man of the Millennia. [LESSON PLAN HELPER: Connect science, technology, engineering, math, history and economics]
With his creation of industrial R&D labs, Thomas Edison takes the industrial revolution of the late 1880s and extends it indefinitely into the future, systematizing the process of invention, completely changing the standards of living for all on planet Earth—giving us the concept of progress led by technological advancement…the heartbeat of today's economies the world over. [LESSON PLAN HELPER: Connect creativity, innovation, invention and history]
Thomas Edison was an entrepreneur, a businessman who had both vision and the ability to see and shape new markets for his products. His famous four rules for business were:
Think out of the box
Be entrepreneurial … take risks
Fail your way to success
Success demands that you improve your products
[LESSON PLAN HELPER: Connect business, history, economics and innovation]
He saw great potential in both alternate energy technologies solar systems and wind energy; and pioneered the storage batteries needed for electric vehicles. He developed the concept for re-charging electric vehicles in a garage-his garage, all the way back in 1908. [LESSON PLAN HELPER: Connect science, technology, engineering and math]
Thomas Edison was life-long learner and man of letters. He kept 4,000 laboratory notebooks and produced over 5 million written documents. This great man was a master communicator. [LESSON PLAN HELPER: Connect creativity, innovation, language arts and speaking skills]
There are numerous ways to bring Thomas Edison alive to your students in a way that complements your classroom and curriculum. Turn your kids onto this American icon, and they will reward you with a flood of invention and creativity!
Sources of Edison Information for your Classroom:
Classroom Activities to Try:
Have your students identify modern inventors, entrepreneurs, and creative individuals who have that Thomas Edison spirit [i.e. like Steve Jobs, Bill Gates and Dean Kamen] and discuss them in class.
Invite local inventors into your classroom to discuss how they solve problems and their inventions.
Challenge your class to do some inventing in class:
Let us know how your kids react to Mr. Edison, or if you need some help … contact us at hroman@thomasedison.org.
Oh, by the way…2012 is the 135th anniversary of recorded sound-the phonograph [1877]; the 130th anniversary of the electric utility industry [1882]; and, the 125th anniversary of the West Orange Labs [1887]. Now there are some things to discuss in class!
Thomas Edison said … "I'd put my money on the sun and solar energy. What a source of power! I hope we don't have to wait until oil and coal run out before we tackle that."
Time ® is a registered trademark of Time Inc.